Here are the contents of this month's newsletter:
Wonderful trips to Wyoming and Stockholm, Sweden
More honors for my Father: LSU Museum exhibit, OCS Hall of Fame nomination
At First Light news: Page Turner Award shortlist for Book of the Year, Louisiana Book Festival, more nice reviews
Last Month's Blogs at DrWalt.com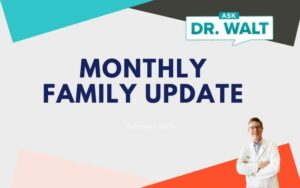 1. Wonderful trips
Wyoming Road Trip
After I retired from direct patient care at the end of 2021, Barb said she wanted to start taking some road trips. We finally did our first trial of a longer one, taking a two-week road trip in early September through Wyoming. Highlights included amazing scenic byways, Cheyenne, Laramie, Caspar, Buffalo, Ten Sleep, Cody, Yellowstone, the Grand Tetons, and Flaming Gorge. We had a fabulous time together, and I think there will be more road trips next year.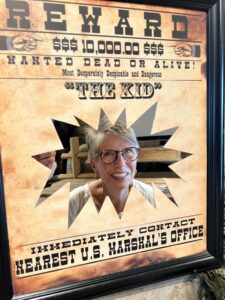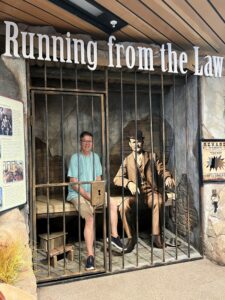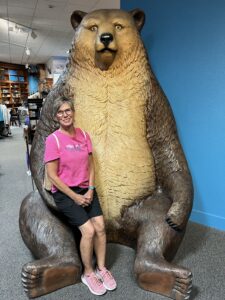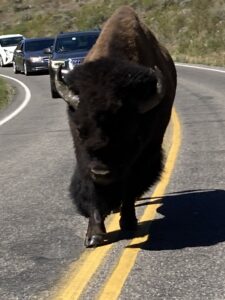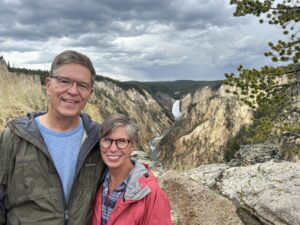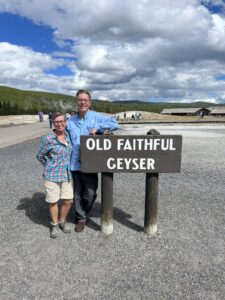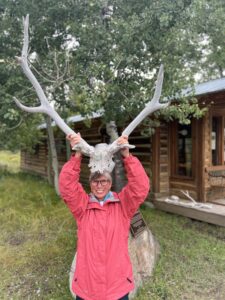 Sweden
The Larimores in Decatur, GA (son, Scott, DIL Jennifer, grands, Katherine and Sarah) invited us to join them for a one week nearly-last-minute trip to Stockholm, Sweden. Although Sweden has never been on our bucket list, it sure is now. In late September we departed for a week there. What a wonderful time we had. Highlights included the Vasa, Nordic, and ABBA museums, the Royal Palace and Treasury, Stockholm's Old Town and City Hall, Skansen, Kunglia Djurgården, and Södermalm, daily gelato, and several meals of delicious Swedish meatballs.  Tons of sweet pictures and a million memories.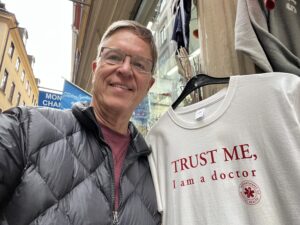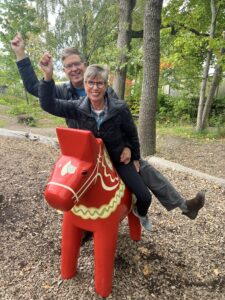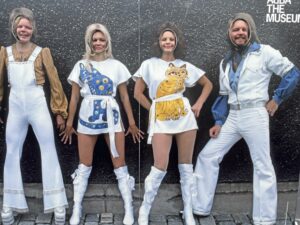 2. More honors for my father
Last month I told you that my father and my hero, MAJ Philip B. Larimore, Jr., was inducted into the U.S. Army's 3rd Infantry Division's Marne Hall of Fame at Fort Stewart Georgia on August 1, 2023. Dad was inducted along with General of the Army George Marshall and President Dwight Eisenhower.
I just did a TV interview with a station in Columbus, GA. You can watch the 5-minute segment here.
This month an exhibit about Dad and his heroics will open at the LSU Military Museum on October 26 in Baton Rouge. Here's the flyer for the event (you may have to double click on it to see the details). Please forward this flyer to anyone you know in the Baton Rouge area: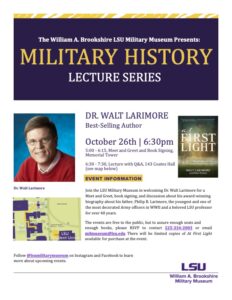 Based upon recommendations from General David Petraeus (former Director of the CIA) and from the 3rd Infantry Division, Dad has been nominated for the Officer Candidate School Hall of Fame at Fort Moore, GA (formerly Fort Benning). We won't know if he'll be accepted for a few months.
3. More honors for the book about Dad, At First Light
 At First Light made the Book Award Shortlist for this year's International Page Turner Award for Book of the Year. It survived as the #1 book in the "True Stories" category. Their virtual Awards Ceremony is on Wednesday, 15th of November 2023. Fingers crossed.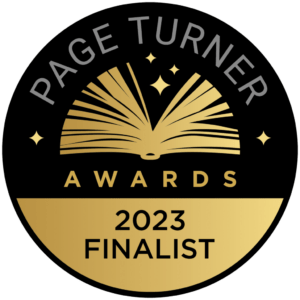 The book and I will be featured at the Louisiana Book Festival in Baton Rouge on October 28. If you come, here's where you can find me:

2:00 pm to 2:45 pm, State Library, Fourth Floor, My Father, My Hero: War Stories from WWII, with Janis Pardue Hill and Walt Larimore
3:00 pm to 3:45 pm, Cavalier House Books Tent, Book Signing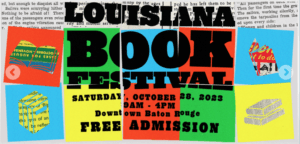 Great book reviews continue: I'm delighted that as of 10/01/23, the book has received 506 ratings with about 94% being 5-star ratings (474 of 506 total reviews) on sites such as Amazon (216 ratings [503 5-star]), GoodReads (121 ratings [105 5-star]), Barnes & Noble (72 [71 5-star]), Walmart (54 ratings [52 are 5-star]), and Target (42 ratings [all 5-star]). What a blessing!
4. Last Month's Blogs at DrWalt.com
Mondays: "Ask Dr. Walt" – for those wanting to be more "highly healthy" 
Wednesdays: Miscellaneous
Fridays: An Apple A Day.In this new series, starting Friday, September 8, I briefly discuss medical and health news.
Please let friends and family know that they can subscribe for free to the new blog here.
5. Last Month's Happenings
August 25, Barb and I began a two-week vacation road trip through western Wyoming and Colorado.

8/25, Cheyenne (Wyoming Visitor Center, Wyoming State Capital and Museum, and Cheyenne Depot)
8/26, Laramie (Plains Museum, Wyoming Territorial Prison Historical Site, The Virginian Hotel in Medicine Bow)
8/27, Casper (National Historic Trails Interpretative Center, Lou Taubert Ranch Outfitters)
8/27-28, TA Ranch and Buffalo (Cloud Peak Skyway Scenic Byway, Dirty Sally's General Store, Ten Sleep, Jim Gatchell Memorial Museum, The Occidental Hotel and Saloon)
8/29, Sheridan (Fort Phil Kearny, Brinton Ranch House and Art Museum, Trail End – Kendrick Mansion, King's Saddlery and Ropes, Sheridan Inn)
8/30, Cody (Big Horn Scenic Byway, Burgess Junction Visitor Center, Shell Falls Interpretive Site, Buffalo Bill Center of the West)
8/31 to 9/1, Yellowstone National Park (amazing scenery, sites, and wildlife – including having bison walk within a foot of our car four days in a row—and, of course, Old Faithful and the Grand Canyon of the Yellowstone)
9/2-3, Jackson Hole and the Grand Tetons National Park (even more amazing scenery, sites, and wildlife)
9/4, Flaming Gorge (Wyoming Centennial Scenic Byway, Flaming Gorge/Green River Scenic Byway, Flaming Gorge Dam and Visitor Center)
9/5, Home with amazing photographs and tons of wonderful memories.

September 16-23, Barb and I traveled with our son, Scott, daughter-in-love, Jennifer, and the grands, Katherine and Sarah, to Stockholm, Sweden. Jennifer was traveling professionally for Agnes Scott College (where she's a professor). The rest of us had a ton of fun and made memories for a lifetime.

9/16-17, fly to Stockholm
9/17, Walk Old Town Stockholm, gellato
9/18, Vasa Museum, Swedish National Museum of Science and Technology, Moderna Museet, gellato, Manon Ballet at Kungliga Operan AB)
9/19, Södermalm, Omnipollos hatt, Viking Museum, Nobel Prize Museum, gellato
9/20, Skansen Djurpark, ABBA The Museum, gellato
9/21, we flew home
6. Upcoming Events
October 4-21, Barb and I will travel to Europe to celebrate our 50th wedding anniversary (well, the actual date is November 17, but we're going while the weather's a bit better).

10/4, fly to Amsterdam
10/5-6, Amsterdam
10/7, board our Viking long boat and set sail
10/8, Kinderdijk
10/9, Cologne
10/10, Koblenz and Rudesheim
10/11 Speyer
10/12 Strasbourg
10/13, Breisach (and visit the Colmar and the Maison Rouge Bridge where my dad fought in WWII)
10/14, deboard, Basel, bullet train to Lucerne
10/15-16, Lucerne
10/17, bullet train to Paris
10/18-20, Paris, including an anniversary meal on the Eifel Tower
10/21, fly home

October 25-31, we'll be in Baton Rouge for some At First Light events

Thursday, October 26, I'll give a keynote presentation, do a ribbon cutting, and do a book signing at the opening of an exhibit honoring my father, Philip B. Larimore, Jr., at the LSU Military Museum at the Memorial Tower.
Saturday, October 28, At First Light will be a featured book at the Louisiana Book Festival at the State Capital Complex.
Monday, October 30, we'll celebrate the 20th anniversary of my father's burial at the Port Hudson National Military Cemetery
7. Past Three Editions
September 2023

My Father inducted into the 3rd Infantry Division's Marne Hall of Fame
Other At First Light news

Philip B. Larimore, Jr. Exhibit at the LSU Military Museum
Louisiana Book Festival
Great book reviews continue

Last Month's Blogs at DrWalt.com

August 2023

My Father inducted into the 3rd Infantry Division's Marne Hall of Fame
Colorado Springs station's coverage of Dad and his book
Other At First Light news

International Page Turner Book Award Finalist
Possible Movie or Mini-Series
Possible Medal of Honor
Louisiana Book Festival

Last Month's Blogs at DrWalt.com

July 2023

My Father to be posthumously inducted into the 3rd Infantry Division's Marne Hall of Fame
At First Light news, including discussion of a movie or mini-series
This month's blogs at DrWalt.com
---
 © Copyright WLL, INC. 2023.