Are there any attitude changes that you can make, starting today, that can quickly begin to improve your health? Well, not only are there, but they are simple, don't cost a dime, and show rapid benefits to you physical, emotional, relational, and spiritual health. I'll reveal to you three secrets to improve your overall health on today's episode of Ask Dr. Walt.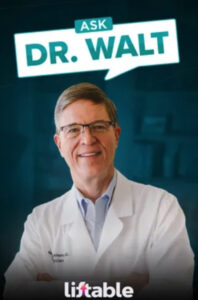 From 2021-2022, I was honored to host a TV show on LiftableTV, "Ask Dr. Walt."
Are there any attitude changes that you can make, starting today, that can quickly begin to improve your health? Well, not only are there, but they are simple, don't cost a dime, and show rapid benefits to you physical, emotional, relational, and spiritual health. I'll reveal to you three secrets to improve your overall health on today's episode of Ask Dr. Walt.
You can click below to watch a video of the show, or I've put the show transcript at the end of the blog if you'd prefer.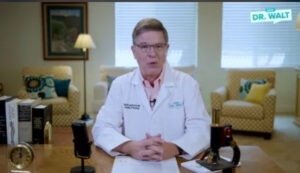 CLICK TO LEARN MORE about FIT OVER 50 or 10 ESSENTIALS OF HIGHLY HEALTHY PEOPLE
Disclaimer: The Ask Dr. Walt show is designed for entertainment purposes to give information on various medical conditions, treatments, and procedures for your personal knowledge and to help you be a more informed consumer of medical and health services.
SHOW TRANSCRIPT
TEASE:
Are there any attitude changes that you can make, starting today, that can quickly begin to improve your health? Well, not only are there, but they are simple, don't cost a dime, and show rapid benefits to you physical, emotional, relational, and spiritual health. I'll reveal to you three secrets to improve your overall health on today's episode of Ask Dr. Walt.
OPEN:
Hi, everyone. I'm family physician Dr. Walt Larimore. Thanks for joining me today. Now, those of you who watch regularly, know that my staff and I usually take the questions that you send in and organize them into topics. Today, I'm going to deviate from that practice and spend some time teaching you some simple and fun things that you can do to change your attitude in such a way that you can improve the quality of your health and the length of your life. If that's something you want, grab your journal or a pen and note pad and let's go to work together. Or, you can pick up a copy of a book I co-wrote with my friend, Dr. Philip Bishop, called Fit over 50: Make Simple Choices for a Healthier, Happier You. Don't let the title fool you, virtually all of the principles apply to all adults irrespective of age.
So, to get right to the bottom line, today I'll spend only a few minutes on each of what I call "The AAA Attitudes," knowing we could discuss any of these for an entire program:
1) Aid others
2) Assist others
3) Appreciate others
            The pastor that first discipled my wife, Barb, and I while we were in college was Donald Tabb at the Chapel on Campus at LSU in Baton Rouge. He defined true joy in life with the acrostic "JOY," by which he meant keep Jesus number one, Others number two, and Yourself number three. Today we'll focus on the "O" in true "JOY."
1) Aid Others
Jesus told a legal expert, "The second [greatest commandment in the Law] is …'Love your neighbor as yourself'" (Matthew 22:39).
Most folks think of neighbors as the people who live near us, but that's not what Jesus meant. Jesus told His famous parable of the good Samaritan in Luke 10:25-27, to make it clear that "love your neighbor" means to love all persons, everywhere—not just our friends and those who live near us.
By "neighbor," Jesus included all mankind—even our enemies! He made this clear when He taught in Matthew 5:43-48, "You have heard that it was said, 'Love your neighbor and hate your enemy.' But I tell you, love your enemies and pray for those who persecute you, that you may be children of your Father in heaven."
I believe that loving our neighbor encompasses at least these three ideas:
Forgiving our neighbor
Following the Golden Rule with our neighbor
Helping our neighbor in need
In an earlier program, actually our 8th episode, titled, "Health and Forgiveness," I explained the incredible health benefits of forgiveness. And I think most folks understand the benefits of the Golden Rule. It may be one of the best-known of Jesus's sayings and sums up His moral teachings, as well as the Law and the Prophets. We see it in Matthew 7:12, where Jesus says, "So in everything, do to others what you would have them do to you." This is the standard Jesus set for dealing with our neighbors—in other words, with all people. It is called The Golden Rule because Roman Emperor Alexander Severus, who ruled from AD 222 to 235, is said to have had it inscribed in gold on his wall.[i]
However, for this healthful attitude, I want to focus on helping our neighbors in need. As followers of Jesus, we are not to live hard-hearted or self-centered lives. We are called to put our faith into practice and truly love our neighbors, especially those less fortunate.
In what is called the parable of the sheep and goats, Jesus taught:
The King will say to those on His right, "Come, you who are blessed of My Father, inherit the kingdom prepared for you from the foundation of the world. For I was hungry, and you gave Me something to eat; I was thirsty, and you gave Me drink; I was a stranger, and you invited Me in; naked, and you clothed Me; I was sick, and you visited Me; I was in prison, and you came to Me."

Then the righteous will answer Him, saying, "Lord, when did we see You hungry, and feed You, or thirsty, and give You drink? And when did we see You a stranger, and invite You in, or naked, and clothe You? And when did we see You sick, or in prison, and come to You?"

And the King will answer and say to them, "Truly I say to you, to the extent that you did it to one of these brothers of Mine, even the least of them, you did it to Me"

(Matthew 25:34-46, NASB).
God has given each of us stewardship over what I call The Four Ts:
our talents (Ephesians 2:10),
our treasure (Haggai 2:8),
our time (Ephesians 5:16), and
our temple or our body, which the Bible calls "the temple of the Holy Spirit" (1 Corinthians 6:19).
We are to faithfully administer or steward these for our needs and in the service of others. The Bible tells us in Second Corinthians 9:8, "God will generously provide all you need. Then you will always have everything you need, and plenty left over to share with others" (2 Corinthians 9:8, NLT).
The unwise say, "The more I give to others, the poorer I become," but the opposite is true. Service to others brings meaning and fulfillment to our lives in a way that wealth, power, possessions, and self-centered pursuits can never match.
As Jesus said in Luke 6:38, "Give, and it will be given to you. A good measure, pressed down, shaken together, and running over, will be poured into your lap. For with the measure you use, it will be measured to you" (Luke 6:38).
A biblical principle for a happy, blessed, and healthful life comes with understanding that all God has given us is to be used by us for His glory. And this happens most lavishly when we freely give it back to Him for others' benefit. As with the first disciples, God has given us much to share with those in need. As we do, we can be conduits of healing and blessing every day. We received these blessings freely, and freely we are called to give them away, all for the glory of God. Jesus taught us in Matthew 5:16, "Let your light shine before others, that they may see your good deeds and glorify your Father in heaven" (Matthew 5:16).
And John 3:16 tells us that "God so loved the world that He gave…" This verse is a revelation of the heart of God and a summation of the meaning of the Christian life. If there's one thing the Bible teaches us, especially in First John 4:8,11, it's that God is love, and that those of us who claim to believe in Him and want to follow Him ought to love one another as He has loved us. And the message of John 3:16 is that love always gives, and that God gives sacrificially and maximally.
So what time, talent, and treasure has God given you beyond your basic needs? Then, ask God to tell you how, where, and to whom you can freely give them away. As you use them to serve others, you will experience the blessed life. My friend and best-selling author, Randy Alcorn, writes, "God has entrusted us with wealth that we may voluntarily distribute to those who need it most. Never have so many been in need. Never has God showered such abundance on Christians. When will we learn that God doesn't give us more to increase our standard of living, but to increase our standard of giving?[ii]
From improving your physical well-being to boosting your emotional and relational health, tending to, caring for, and giving to others, which is how you love others, does a world of good for your health and the health of those in which you invest time, treasure, talent, and temple.
Most of the time, you can experience the immediate impact of giving your talents, treasure, and time; but it won't be until heaven that we'll learn of all the eternal benefits.
2) Assist others
We can share our Four Ts with others in two ways. One is in our vocational work. We can be paid to share our Four Ts. But perhaps the healthiest and most Christlike way is to give away our Four Ts by volunteering.
Keep in mind what Paul wrote in Acts 20:35, "In everything I did, I showed you that by this kind of hard work we must help the weak, remembering the words the Lord Jesus himself said: 'It is more blessed to give than to receive.'"
Science backs up the teaching of Jesus. For example, one study found that 75 percent of those who volunteered said volunteering made them feel emotionally happier and physically healthier.[iii] A much larger study involving more than 64,000 people suggested that volunteering slows the cognitive decline of aging. An individual who is volunteering 100 hours a year scores on average about 6 percent higher in cognitive testing than a non-volunteer.[iv]
There's no doubt that volunteering makes an immeasurable difference in the lives of others. But it also benefits the volunteer—from lowering stress to boosting self-confidence. Here are just a few of the mental and physical health benefits of volunteering according to the online educational community, Non-Profit Hub:[v]
Reduces stress levels and decreases your risk of depression. Volunteering increases social interaction and helps build a support system—both of which have been shown to decrease depression. Also, by serving others, volunteers feel a sense of meaning and appreciation—both given and received—which can be calming and reduce depression.
Helps you stay physically and mentally active. A study released by Johns Hopkins University in 2009 revealed that volunteers increased their brain functioning.[vi] Volunteer activities get folks moving and thinking at the same time.
Provides an opportunity to experience the "happiness effect." Researchers at Vanderbilt University found "the more hours of volunteer work, the greater a person's happiness, life satisfaction, self-esteem, sense of mastery, and physical health, and the lower their his or her depression."[vii]
Expands connections and boosts self-esteem. Volunteering helps build a strong safety net for when the volunteer experiences trying times. With strong social ties, the volunteer is surrounded by a community that's willing to help them out when times get tough. Larger social networks provide more resources, which leads to better physical, mental, and emotional health. When you volunteer, you become a part of someone else's safety net too. By helping others, you'll build a greater sense of trust and self-esteem.
Contributes to a longer life. Volunteers experience increased longevity and less heart disease—and may be at a lower risk for memory loss. Social interaction can significantly reduce the progress of Alzheimer's and other types of dementia.
Volunteers don't necessarily have the time, but they do have the heart. Volunteers give, but in turn end up getting far more. In the economy of God, you give sacrificially but you gain immeasurably. It improves your physical well-being while boosting your emotional and relational health.
Jesus tells us in Luke 12:48, "From everyone who has been given much, much will be demanded; and from the one who has been entrusted with much, much more will be asked" (Luke 12:48). We have been given much, and we need to be good stewards of what we have received. When we volunteer, we give our time, energy, and talents for the benefit of others—we lay down our own lives.
            I recommend that your aim in choosing what your volunteer to do is to match the task to your God-given talents and maximize the impact of your work, knowing that volunteering may not only allow you to help others in the name of Christ, but will surely help us be healthier!
3) Appreciate others
Jayson D. Bradley writes, "The word 'gratitude' first showed up in the mid-fifteenth century. Adapted from the Latin word gratitudinem, which means 'thankfulness,' gratitude came to express deep, reciprocal appreciation for kindness received."[viii]
The ancient biblical narrative speaks abundantly about gratitude and being grateful (Jonah 2:9; Psalm 100, 118:28-29, 136:1-3, 147:7; Acts 24:3; Romans 6:4; Colossians 3:12-17; 1 Thessalonians 5:18). The words thank(s), thankful(ness), and thanksgiving appear in Scripture more than 170 times.
Writer G.K. Chesterton said, "When it comes to life, the critical thing is whether you take things for granted or take them with gratitude."[ix]
Frederic and Mary Ann Brussat wrote, "Gratitude puts everything in a fresh perspective; it enables us to see the many blessings all around us. And the more ways we give thanks, the more things we find to be grateful for. Giving thanks takes practice, however. We get better at it over time."[x]
I gave one of my patients who suffered from a particularly bad attitude and the chronic depression that often goes with it the assignment of keeping a daily gratitude journal for two weeks. Each evening she was to write down five things for which she was grateful or blessings she had experienced that day. On her next visit, she said, "I can't believe how much better it makes me feel and function. I still have bad moods and disappointments, but they seem to be getting better by the day. On days when I keep a list of all the little things that give me a lift, it's amazing how the good feelings just grow. On days when I forget…well, my bad attitude gets the best of me!"
Much research shows that an "attitude of gratitude" can immeasurably improve your overall well-being. Studies have shown that the positive benefits from simply giving heartfelt thanks can ease emotional burdens and stress, and that an attitude of  gratitude helps people achieve high degrees of health and well-being (improved emotions), improved social behaviors and traits (improved relational health), and improvements in religiousness/spirituality (improved spiritual health).[xi]
There's a wonderful minute-and-a-half You Tube video from the Templeton Foundation on the many health benefits of an attitude of gratitude as well as some tips on developing it at tinyurl.com/yal7fzdr.
When you find yourself brooding over an unpleasant experience, you can consciously choose to find a reason to be grateful or to consciously concentrate on a blessing in your life. By doing so, you perform your own therapy. The more you cultivate a positive coping style, the more likely you are to demonstrate feelings of well-being and happiness, no matter what your lot in life.
Here's my prescription for you: keep a small journal at your bedside. For one week, each night before going to sleep, record five things for which you are grateful—the blessings you received that day. Then, for a minute or two, reflect on each item you recorded and thank God for the gifts you've been given. See what happens to your feelings. The next time something bad or irritating or disappointing happens to you—or the next time you find yourself brooding over an unpleasant experience—stop yourself. Choose instead—right away—to find a reason to be grateful.
The Greater Good Science Center at UC Berkeley has a helpful article, "Tips for Keeping a Gratitude Journal" and will give you a digital gratitude journal at tinyurl.com/y7da7vo7.
Paul wrote in Philippians 4:4-8, "Rejoice in the Lord always. I will say it again: Rejoice! Let your gentleness be evident to all. The Lord is near. Do not be anxious about anything, but in every situation, by prayer and petition, with thanksgiving, present your requests to God. And the peace of God, which transcends all understanding, will guard your hearts and your minds in Christ Jesus. Brothers and sisters, whatever is true, whatever is noble, whatever is right, whatever is pure, whatever is lovely, whatever is admirable—if anything is excellent or praiseworthy—think about such things" (Philippians 4:4-8).
Don't be surprised to find your attitude changes, you begin to develop a daily attitude of gratitude, and, as a result, you'll become more highly healthy!
Well, my time's up for today. To learn more about these three life-giving attitudes and how your attitudes and mental health can affect your physical and relational health, you may be interested in reading onr of the other of two of my best-selling books: Fit over 50: Make Simple Choices for a Healthier, Happier You and 10 Essentials of Happy, Healthy People: Becoming and staying highly healthy. You can find them at DrWalt.com. Just click on the tab that says books.   Also, at DrWalt.com you can sign up for my daily "Medical News You Can Use" blog.
For my next program, I want to discuss the topic of spiritual health—specifically, spiritual disciplines. Drop me an email. What spiritual disciplines have meant the most to you? Which on or ones do you most recommend for other followers of Jesus. Just email your comments or questions to me at DrWalt@Liftable.TV. That's DrWalt@Liftable.TV.
So, until our next visit, "Dear friend, I pray that you may enjoy good health and that all may go well with you, even as your soul is getting along well." I'm Dr. Walt Larimore and I look forward to seeing you for my next episode of "Ask Dr. Walt."
---
[i] tinyurl.com/yayek3m5
[ii] tinyurl.com/yxlo4x5b
[iii] tinyurl.com/y8cx9opt
[iv] tinyurl.com/ycl56c2h
[v] tinyurl.com/y7m7oay4
[vi] tinyurl.com/yxk34aaz
[vii] tinyurl.com/h4o8zwc
[viii] tinyurl.com/y634h4xv
[ix] tinyurl.com/y6le5ol6
[x] tinyurl.com/yajt5mjb
[xi] tinyurl.com/y5plzcrl, tinyurl.com/y6svkqrn
---
Disclaimer: The "Ask Dr. Walt" show is designed for entertainment purposes to give information on various medical conditions, treatments, and procedures for your personal knowledge and to help you be a more informed consumer of medical and health services.
---
© Copyright WLL, INC. 2023. This blog provides healthcare tips and advice that you can trust about a wide variety of general health information only and is not intended to be a substitute for professional medical advice, diagnosis, or treatment from your regular physician. If you are concerned about your health, take what you learn from this blog and meet with your personal doctor to discuss your concerns.