On Thursday, March 30, 2023, I was honored to be asked to do a ZOOM presentation to a combined Christian Medical and Dental Associations meeting of the chapters at the LSU School of Medicine and LSU School of Dentistry on the topic of "Spiritual Interventions in Healthcare: Becoming an Everyday Missionary Wherever God Plants You!"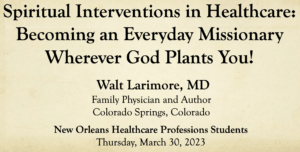 It was about a one-hour presentation that you can view here. Or, you can view a handout of the presentation by clicking here: Spiritual Assessment – 2022-02-04 – Atlanta – Handout
Some of the topics I addressed included:
Becoming a Healthcare Missionary?
Balancing Light and Salt
Practices for Healthcare Missionaries
Become a Praying Missionary
Learn to take a Spiritual Assessment
Basic Spiritual Assessment
Advanced Spiritual Assessment
What About Time Demands?
Healthcare Missionary Training Options
---
© Copyright WLL, INC. 2023. This blog provides healthcare tips and advice that you can trust about a wide variety of general health information only and is not intended to be a substitute for professional medical advice, diagnosis, or treatment from your regular physician. If you are concerned about your health, take what you learn from this blog and meet with your personal doctor to discuss your concerns.