I'll be signing my WW II book, At First Light: A True World War II Story of a Hero, His Bravery, and an Amazing Horse, on Veteran's Day, this Saturday, November 11, from 1-3 PM at the Covered Treasures Bookstore in Monument. This is a great opportunity to get a gift for a veteran, a book lover, or a WWII enthusiast..

Even if you don't want a book, come by to say hi, and support this wonderful local independent book story. If you already have the book and just want to come get it signed, you're more than welcome. They'll also have several other books that have come out in the last four years that I can sign for you
Barb and I hope many of our Colorado Springs and Monument friends will come. But, if you cannot make it, and still want a signed copy or copies for the holiday season, see the process below: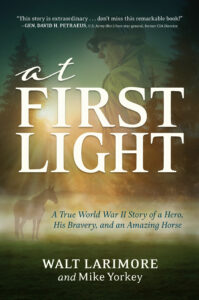 Learn more about the book or order it here.
Order the book on Amazon.com at this link: https://amzn.to/3Lp0MCw. Then:
Have the book (or books) sent to Walt at 1265 Foothills Farm Way, Colorado Springs, CO 80921-3954.
Email me at waltlarimore@mac.com to let him know the book(s) is/are coming and how you want them personalized (to whom should the book be signed and whether it's for a particular date like Christmas or a birthday.)
Let me know the address to which to send them via USPS media mail.
I will let you know when the book(s) is/are signed and on their way to you and the cost of the mailing (usually less than $5 per book if it's by media mail.
You can reimburse me for the shipping by Venmo or check.
As an Amazon Associate I earn a small commission from any qualifying purchases..
---
Copyright (c) Walter L. Larimore, MD, 2023.