On Thursday, June 1, I gave a webinar for Christian healthcare professionals who are members of the International Medical and Dental Christian Associations. ICMDA has given me permission to share that presentation with you.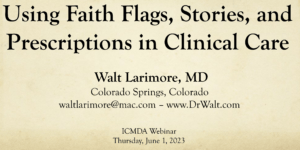 A recording of the webinar is now available online – please click below to watch. Also, under "Further Resources" you can link to three other webinars I've done for ICMDA.
Further resources from Dr. Walt:
Further resources:
---
© Copyright WLL, INC. 2023. This blog provides healthcare tips and advice that you can trust about a wide variety of general health information only and is not intended to be a substitute for professional medical advice, diagnosis, or treatment from your regular physician. If you are concerned about your health, take what you learn from this blog and meet with your personal doctor to discuss your concerns.