A report from the US Preventive Services Task Force (USPSTF) indicates there is insufficient proof to recommend for or against the use of most mineral and vitamin supplements in the prevention of stroke, heart disease, and cancer.
The report also recommends against using vitamin E and beta carotene for the prevention of these conditions because vitamin E has shown no benefits, and beta carotene may increase the possibility of lung cancer in some people who already are at risk.
"This is essentially the same recommendation that the task force made in 2014," USPSTF member John Wong, MD, professor of medicine at Tufts University School of Medicine, Boston, told Medscape.
"We recognize that over half of people in the US take a vitamin supplement of some sort every day and 30% take a vitamin/mineral combination. We wanted to review the evidence again to see if there was any benefit in terms of reducing the risk of cardiovascular disease or cancer or increasing the chances of living longer," Wong explained.
"We looked hard for evidence, reviewing 84 studies in total. But we did not find sufficient evidence in favor of taking or not taking vitamins, with the two exceptions of beta-carotene and vitamin E, which we recommend against taking," he noted.
The statement is published in JAMA, along with an evidence report, editorial, and patient page.
Read more at Medscape here.
You can learn much more about "The Truth about the Most Effective Herbs, Vitamins, and Supplements for Common Conditions" in my book The Natural Medicines Handbook.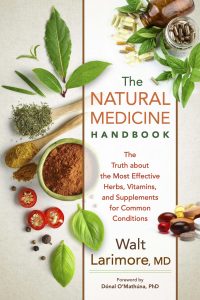 LEARN MORE OR ORDER THE BOOK HERE
---
© Copyright WLL, INC. 2022. This blog provides healthcare tips and advice that you can trust about a wide variety of general health information only and is not intended to be a substitute for professional medical advice, diagnosis, or treatment from your regular physician. If you are concerned about your health, take what you learn from this blog and meet with your personal doctor to discuss your concerns.